We're Security Engineering experts ready to help you.
Bringing peace of mind with security engineering solutions for your mission.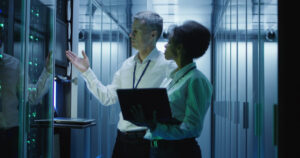 Also known as cloud computing security, we use a combination of policies, procedures and technical controls to secure your data. Our cloud experts stay current with the latest technology and best practices.
We design, build, and manage the security infrastructure of IT systems. This includes firewalls, and Virtual Private Networks (VPNs) for your organization.
We implement Intrusion Detection Systems (IDS) to monitor network traffic for suspicious activity. We can fine tune these systems to reduce false positives so that your analysts are not chasing bad leads while missing the real threats. Intrusion Prevention Systems (IPS) can be configured to halt attacks before they reach your network.
We monitor, upgrade, and maintain your existing cyber systems and tools.
We help you design secure solutions around your current or new infrastructure.
We can create and implement security features for your mission so you don't have to. We bring in experts to protect all areas of your organization.
Our seasoned professionals leverage their experience to ensure your complex security requirements are met and your project progresses on schedule.
Security Information and Event Management (SIEM) software provides real-time analysis of security threats to your infrastructure. Our experts can configure these systems to maximize visibility inside your networks and hosts while preserving your existing technology investments.